Before I get to my main story, I have to show you our first "real" harvest in our garden:
Cukes! Tomatoes! More squash! Green beans! Yum!!!
We had to clean out our garden of ready, or near-ready, veggies because we were leaving for five days to explore part of southeastern Arizona on a mini-vacation.
Southeastern Arizona...if you don't know how wonderful that area is, by the end of this story, you will. Remember the movie musical "Oklahoma!" (yes, Shirley Jones...that one)? It was actually filmed in this area, oh yes it was. One of my favorite places to explore, it is a land of big sky and rolling grasslands with "islands" of mountains that harbor some of the most biologically-rich habitats in the United States. It is heaven for birdwatchers; matter of fact, it is one of the top five birding areas in North America. Towns such as Sierra Vista and Sonoita, as well as even the local military base, Fort Huachuca, have recently taken notice of the economic boon of birders "flocking" here, and have capitalized on this phenomenon with bird festivals and other marketing ploys. These grasslands, too, are found to have a type of soil that is conducive to growing grapes, and there is a burgeoning wine region around the small town of Elgin; approximately 15 wineries have tasting rooms, and it makes a great day trip from Tucson.
Just out of Tucson, entering the grasslands
Grasslands around Elgin, wine country
Pronghorn antelope grazing around Elgin
Future wine
So when my husband suggested we get away for a long weekend, I happily accommodated him. Why not? Three of my favorite things are in southeastern Arizona: birds, wine, and Bed & Breakfasts (the other two favorites being yarn and beads; that about rounds out my Top 5 Favorite Things). It's actually a long drive from the White Mountains, and we had to make it even longer by going through Payson to drop off our dog with my mother- and sister-in-law to care for. After that, Sunday morning found us on a road trip to heaven.
After rolling through the "Oklahoma!" grasslands, where enormous oaks (Emory oak? AZ White Oak? I have no clue) break up the waving fields of grass, we reached our first stop, Sonoita. Sonoita is just a tiny crossroads, really. Two "highways" (two-lane roads) converge at a stop sign, where there's a general store/gas mart, and by chance, where some Arizona wine is sold inside. After seeing the jacked-up prices, which we knew were cheaper at the winery itself, we decided to forego the wine, but not before I took a couple pictures:
Bruce at the Mercantile
Arizona wine for sale inside
The Sonoita Vineyard dog enjoying the shade
We were making good time, so we decided to hit Elgin and our favorite area winery, Sonoita Vineyards, to stock up. It's always a dangerous stop, as we generally can't get out of there without buying at least a case of wine.
Sonoita Vineyards
is, I believe, the first vineyard in the Sonoita/Elgin area, and it was developed by Dr. Gordon Dutt, a soil scientist from the University of Arizona. I actually took a soil science class from Dr. Dutt when in grad school, and I think he got it right by retiring from teaching and making a go of this winery. He's a great guy, occasionally spotted talking to folks in the tasting room. He really started an industry down here that brings tourists and dollars to this relatively rural area.
Bruce anticipating that money will be spent
Lots of peeps in the tasting room; it's a popular place
I had to buy a tasting glass just to make sure
the wine was still the same
Stuff for sale, including ceramic shoes as wine racks
Or, if you'd rather, some party napkins:
"Pick Me Squeeze Me, Make Me Wine" and
"I'm not getting older, I'm getting more complex"
Alas, as Bruce anticipated, he ended up
hauling two cases out. As he said to me,
"it's not the weight of the wine, it's the depletion
of our checking account that's killing me!!!"
The courtyard at Casa de San Pedro
Mind you, this is just Day 1. We traveled on, landing finally at our lodging for three nights, the
Casa de San Pedro
, a lovely B&B right along the San Pedro River. For those of you not familiar with the San Pedro River, it is a nationally-recognized river system that harbors over 300 bird species, dozens of mammals, plants, and herpetofauna. Remember when I talked about how great the birdwatching is in this part of the state? One of the reasons is the presence of the San Pedro. Recognized by The Nature Conservancy as one of our "Last Great Places," it is a northern-flowing (it has its start in Mexico and flows north) perennial river that has on its edges some incredible riparian (streamside) habitat of huge cottonwoods, willows, and other native vegetation that you just don't see too much anymore in Arizona, as a number of our great rivers have simply dried up from overuse. The fear is that the same fate awaits the San Pedro; the city of Sierra Vista, over 50,000 residents and growing, are pumping more water from the water table than is being replenished, and it has been affecting the river's flow. When you have a river in a desert, you can bet that that river is important to not only humans, but also the myriad of wildlife that depend upon it. Unusual species such as the jaguar, ocelot, green kingfisher, and some tropical birds from Mexico have shown up in this river corridor.
Along the San Pedro, cottonwoods and green
vegetation make it cooler, wetter, shadier,
and all-around more attractive for wildlife
Breakfast of champions: a popover base with fruit,
compote, and a dollop of fresh sour cream
along with a sausage link. So much for the diet.
After cooling off at the B&B and meeting owners Patrick and Karl, we were given the tour and basically shown how we could make ourselves at home. It truly is a magnificent B&B; the dining area always had tea, coffee, and baked goods available. Breakfasts were impeccable. Benches and bird feeders placed strategically for those just wanting to sit and watch birds, from the daily visits by wild turkeys to swarms of hummingbirds. A trail led to the San Pedro River, about 100 yards away, where one can thrash through vegetation and find toads, lizards, birds, and the occasional mammal tracks.
Birdwatching at the base of a
huge AZ Sycamore tree
The following day, we visited Ramsey Canyon Preserve, one of The Nature Conservancy's most well-known preserves. Remember the "Monument Fire" a few months previous, one of Arizona's wildfires of the year? Well, after burning the southern third of the Huachuca Mountains, with Preserve folks thinking "here it comes, we're next," the wind shifted, and the fire basically stopped at the head of Ramsey Canyon. We saw the aftermath of the fire in other places, but here, it was untouched. We spent the morning exploring the creek, and had a great time.
Wandering up the creek to "The Box,"
a tight, narrow canyon about 100'
high; don't want to be there
when it rains...
We saw six species of hummingbirds at the feeders maintained at the Preserve: Magnificent, Broad-billed, Black-chinned, Costa's, Anna's, and Violet-crowned. A few other southeastern-Arizona specialties, like Sulphur-bellied Flycatcher, were also spotted.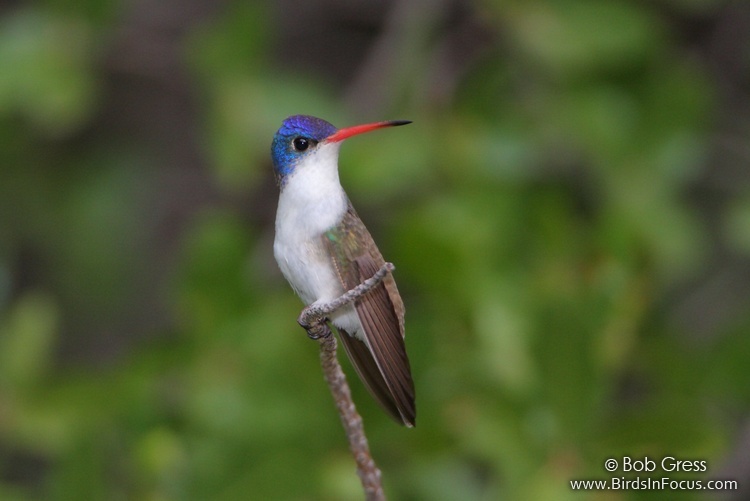 Violet-crowned hummingbird, photo by Bob Gress, obtained from Google Images (not my photo!!!)
The following day was spent wandering in the San Pedro River, using the privately-funded but open to the public San Pedro House as our base. The house is an old ranch house that is part of the Bureau of Land Management's San Pedro Riparian National Conservation Area (SPRNCA, or "Sprinka" as it's called). Trails, interpretive signs, and a gift shop provide the visitor with a full experience. The house sits at the base of this enormous cottonwood tree, supposedly the 3rd largest cottonwood in the state (but I've never seen a bigger one). Truly amazing tree.
So that was our second full day; when it got too hot, we came back to the Casa, and swam in their pool, relaxed, and I read my Kindle while Bruce napped. What a great day.
One evening, we took a drive to the Coronado National Monument, run by the National Park Service. It was originally designed to be a companion park to a similar memorial that Mexico promised to develop right next to this one (remember, we are, literally, at the border of Mexico here), but never did. The Coronado Monument was where the Monument fire was ignited, and black trees were everywhere. The amazing thing is how quickly the grass grew back after our summer rains started, so there was this curious juxtaposition of near-flourescent green grass with blackened trees all around. One of the rehabilitation efforts is to actually re-plant agaves, as the lesser brown bat, a federally-threatened species, depends on the nectar of the agave, and this species was pretty hard-hit in the fire. Anyway, there is a curvy dirt road you drive through the Monument to get to a saddle overlooking the San Rafael Valley, where Coronado and his troops came through in 1540, one of the first Europeans to visit the area. We reached the saddle right around sunset, and took about a million pictures.
The windy road up the canyon; Sierra Vista is in the distance
The San Rafael Valley, looking into Mexico. A monsoon
shower is on the left, the sun is setting on the right.
Sunset on the San Rafael
We came back to the B&B, enjoyed a glass of wine at poolside, and slept like logs. The next day, we ventured back home, via Tucson (pick up some pottery we had made for us), where it was about 100 degrees, then Phoenix to pick up our newly-repaired camper trailer, where it was about 109 degrees (ack!), then, finally, back up the mountain to grab the dog and mother-in-law in Payson, then home sweet home. A great trip, especially so when My Favorite Things are a part of it!!!